Best Beauty Trends at New York Fashion Week Spring 2016
The New York Fashion Week whirlwind never fails to deliver an abundance of inspiration. Need help distilling it all? Here, a recap of the key runway beauty trends everyone will be asking you about next spring—plus the products the pros used backstage. We humbly suggest bookmarking for future clicking.
Eyes
Eyes were enhanced with bright pastels and dramatic gold shadows and liners, while bold brows continued to dominate.
MARC JACOBS (Photo: Nars): To create the worn-in eyes of an "East Village girl who's been out all night," François Nars used his Velvet Shadow Stick in Dark Angel, Eye Paint in Solomon Islands and Dual-Intensity Eyeshadow in Cressida (new shade for Spring 2016).
DIANE VON FURSTENBERG (Photo: Essie): Pat McGrath used a blend of shimmery green and metallic blue shadows (on the crease and as liner, respectively), to create this look inspired by a 1970s photo of DVF.
WES GORDON (Photo: Maybelline): Makeup artist Dominique Samuel added definition to the models' dewy, fresh faces with Maybelline Brow Drama Sculpting Brow Mascara.
CHROMAT (Photo: Maybelline): Brows got the Technicolor treatment with Maybelline Eye Studio Colour Tattoo 24HR in Tenacious Teal, while Lip Studio Colour Blur in Cherry Cherry Bang Bang accented the lower lash line.
CREATURES OF THE WIND (Photo: Nars): Siouxsie Sioux was the muse for artist Aaron de Mey's punky, black cat-eye (Black Valley Eye Paint + Black Moon Eyeliner Pencil and more), glammed up with gold glitz.
THE BLONDS (Photo: CND): Gold appliqués gave the finishing touch to this Egyptian-inspired beauty look.
MARISSA WEBB (Photo: Maybelline): For this regal gold-and-purple eye, Yadim used Maybelline's upcoming The Rock Nudes palette, then lined upper lashes with Eye Studio Lasting Drama Gel Eyeliner in Eggplant.
LIBERTINE (Photo: CND): M.A.C's Blacktrack Fluidline was drawn on using brushes of varying widths for this dramatic 1960s look.
Lips
With many makeup artists preferring a natural vibe this season, pink, nude and peach lips abounded. But there was still room for deeper shades, too.
JASON WU (Photo: Maybelline): Yadim created what he dubbed "Wu Red" by custom-blending the upcoming Maybelline Color Sensational Vivid Matte Liquid in Rebel Red with a hint of Berry Boost.
DKNY (Photo: Maybelline): A matte 1990s lip called for layering four Maybelline products, including Color Sensational Vivid Matte Liquid in Rebel Red and the Face Studio Master Fix Setting+Perfecting Loose Powder, both new for 2016.
CUSHNIE ET OCHS (Photo: Maybelline): Extending fall's dark lip trend into spring, Maybelline Lip Studio Color Blur in Plum Please was used for this moody makeup look.
RACHEL ZOE (Photo: TreSemmé): A matte coral lip complemented painted-on freckles and loose waves at this 1970s-chic show.
RODARTE (Photo: Nars): A neutral lip look, achieved with Nars Velvet Matte Lip Pencil in Belle de Jour, offset the ornamented hair.
BROCK (Photo: Maybelline): These 1990s-inspired lips required nothing but a swipe of hydrating balm.
Skin
Contouring took a backseat to strobing, as a soft glow and dewy complexion provided the foundation for many runway looks.
TOMMY HILFIGER (Photo: Tommy Hilfiger): Inspired by "rock chicks in the sun," Pat McGrath used CoverGirl Outlast Stay Luminous Satin Foundation and a touch of TruBlend Minerals Loose Mineral Bronzer.
CAROLINA HERRERA (Photo: Essie): Diane Kendal enhanced features using a highlighter along the high points of the face, along with a dusty rose blush.
THAKOON (Photo: Nars): Diane Kendal double-dosed on Nars Triple X Lip Gloss, dabbing it into lips and eyelids.
PROENZA SCHOULER (Photo: Essie): To create Proenza's signature no-makeup look, Diane Kendal blended M.A.C Climax Pro Sculpting Crème (new for Spring/Summer 2016) onto cheekbones.
OPENING CEREMONY (Photo: Nars): Glossy skin (courtesy of Nars Pure Radiant Tinted Moisturizer) and a matte lip were meant to convey "beautiful sweat."
BROCK (Photo: Maybelline): Over a thin layer of foundation, Yadim played up bone structure with Maybelline Face Studio Master Contour, launching January 2016.
Hair
Messy, un-brushed waves served as a contrast to the not-a-hair-out-of-place buns, sleek ponytails and intricate braids.
ALEXANDER WANG (Photo: Nars): Guido Palau reshaped models' hair according to their personal style, snipping off as much as six inches backstage.
TOMMY HILFIGER (Photo: Tommy Hilfiger): The hair wrap made a comeback for this beachy, surf-inspired look.
CUSHNIE ET OCHS (Photo: David Webber for Moroccanoil): The hair, by global Moroccanoil ambassador Antonio Corral Calero, was made ultra-sleek with a generous helping of Moroccanoil Smoothing Lotion.
PUBLIC SCHOOL (Photo: Maybelline): For this slicked-back rope braid, Aveda global artistic director Allen Ruiz split a ponytail into two, twisting each section clockwise while twisting them together counterclockwise.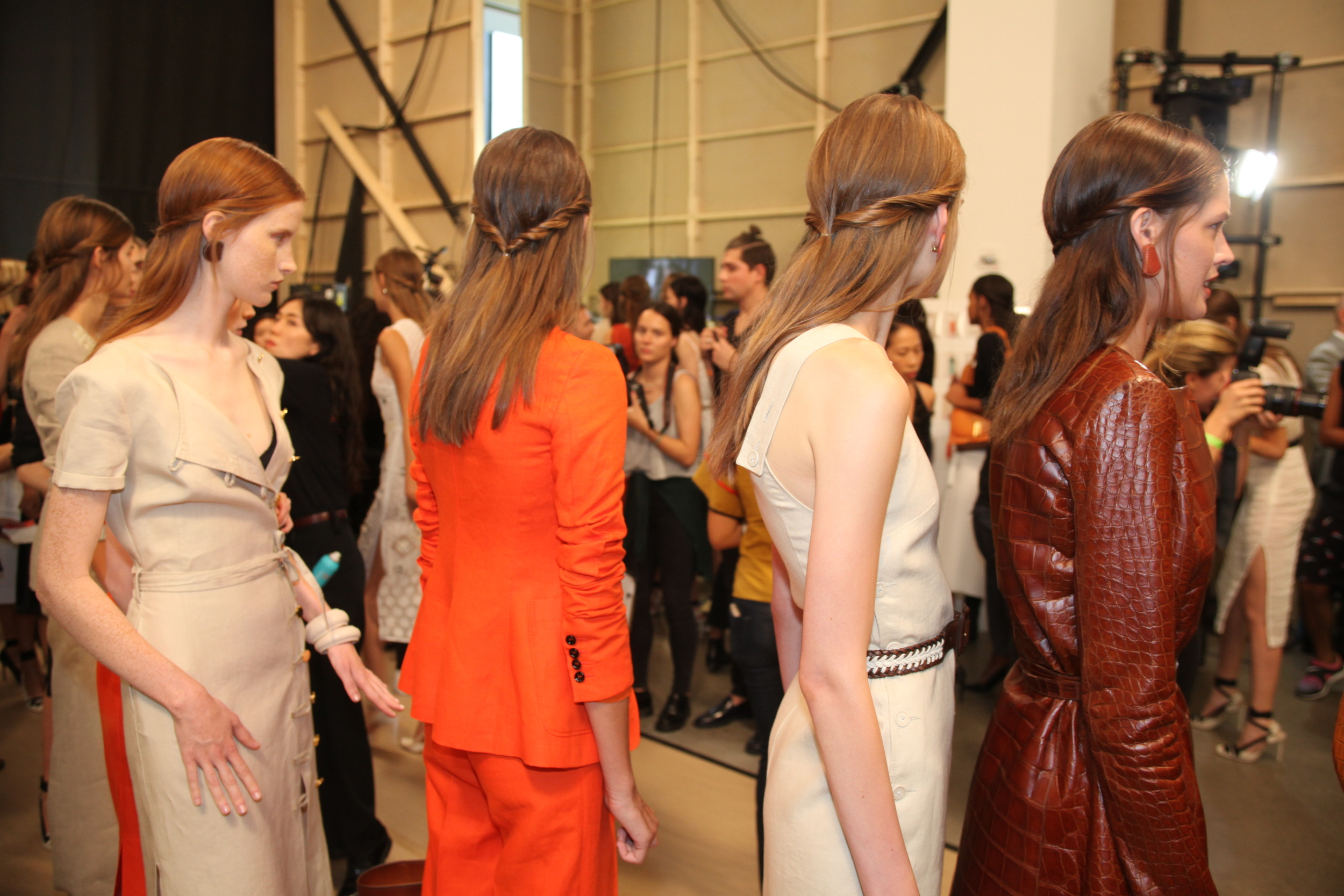 ALTUZARRA (Photo: David Webber for Moroccanoil): The hair, created by Odile Gilbert for Moroccanoil, was twisted back from the sides of the face and secured with an elastic, then a few wisps along the hairline pulled out.
VICTOR ALFARO (Photo: Victor Alfaro): Eugene Souleiman gathered a triangular section of hair at random and used it to create a three-strand braid to the head, while fashioning the remaining hair in a ponytail.
HERVÉ LÉGER (Photo: TresSemmé): This "braided crown pony" followed the line of the deep side part and continued around the head to the nape, where it was secured into a pony.
ALICE + OLIVIA (Photo: Fekkai): This ponytail was given texture with Fekkai Full Blown Volume Lightweight Styling Whip, Blowout Refresher Dry Shampoo and generous tousling.
KATE SPADE (Photo: Fekkai): Black fabric wrapped around the elastic added a finishing touch to this soft yet polished pony.
MARCHESA (Photo: David Webber for Moroccanoil): Antonio Corral Calero, global Moroccanoil ambassador, parted hair strictly in the centre before smoothing it into a low ponytail and twisting into a bun, with loose ends left to fan out.
MONIQUE LHUILLIER (Photo: Stephen Churchill Downes): Created by Recine for Moroccanoil, a knotty, figure-eight chiffon provided unusual polish.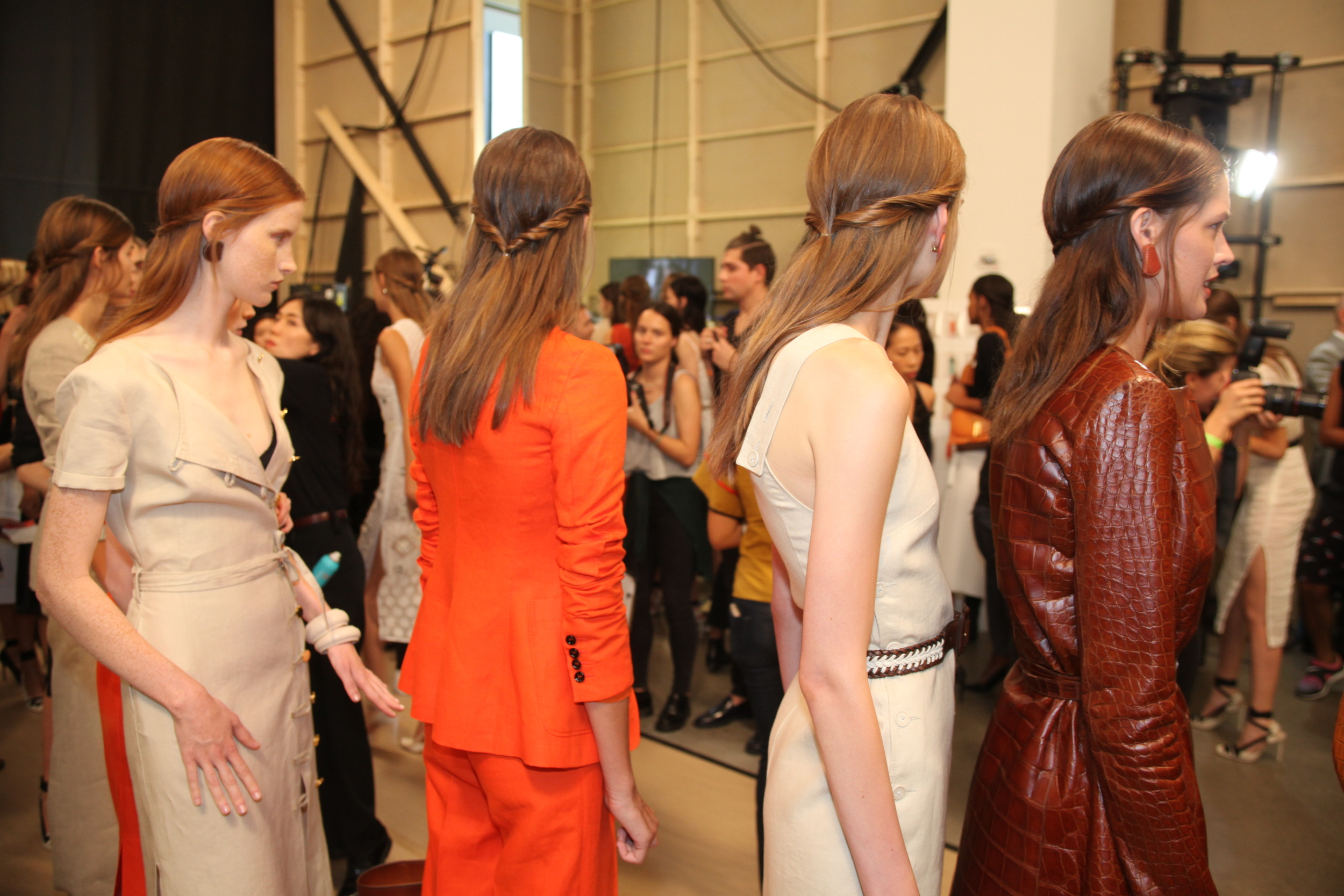 Nails
Although the neutral nail game is still going strong, manicurists showed a return to the ornate with bright blues and reds in solid, negative-space and graphic designs.
TIBI (Photo: Jin Soon): A striping brush was used to achieve this neo French mani using Jin Soon's Tulle and Risqué, as well as hues from the Spring 2016 collection.
ADAM SELMAN (Photo: Sally Hansen): The head of a construction nail was dipped into Sally Hansen's Dark Huemoor, then dotted haphazardly onto tips.
JI OH (Photo: Essie): Fine lines were painted with Essie's Resort Fling, Sugar Daddy and After School Boy Blazer.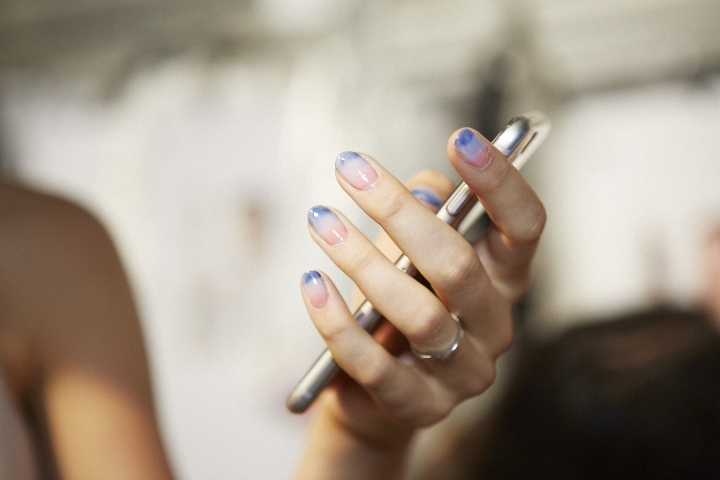 REBECCA MINKOFF (Photo: Essie): Ombré tips were done with three Essie polishes, layered onto a makeup sponge and then pressed onto nails.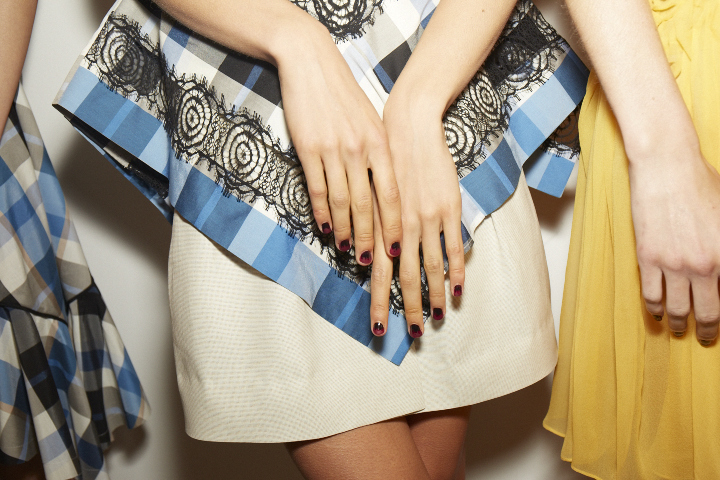 WES GORDON (Photo: Essie): Created by Rita Remark, lead nail artist for Essie Canada and the new global lead educator for the brand, In the Lobby and Devil's Advocate were layered slightly for an ombré effect.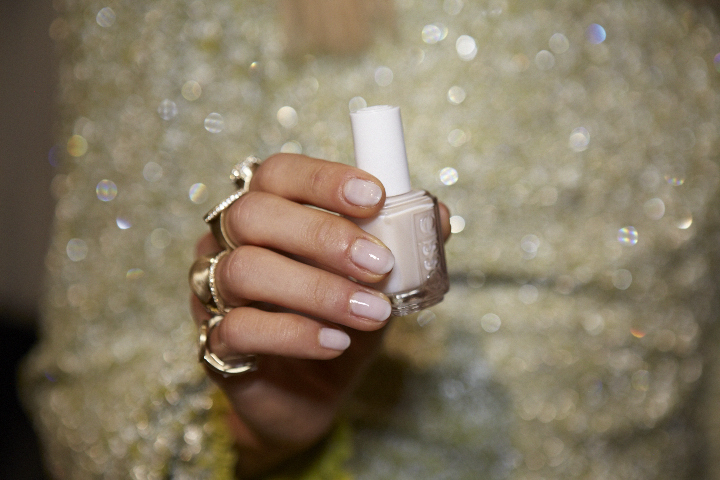 JENNY PACKHAM (Photo: Essie): Essie's Adore-a-Ball was one of two nail looks at this show, providing a neutral contrast to the bright blue option created using Butler Please.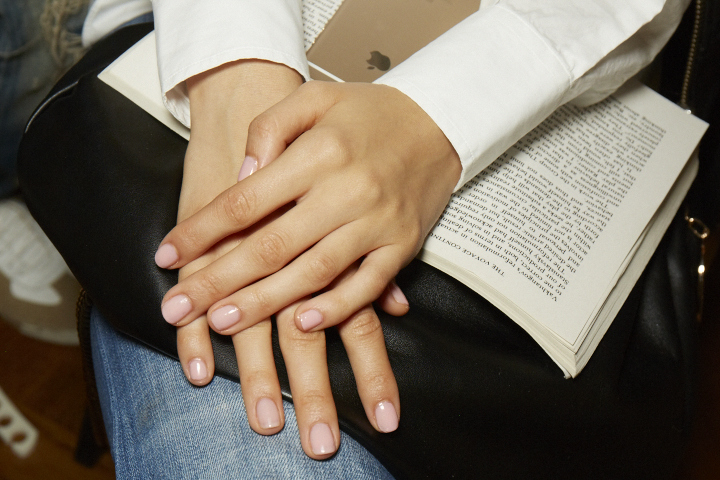 CAROLINA HERRERA (Photo: Essie): Two coats of Essie's Spaghetti Strap complemented the collection's fabrics.
DIANE VON FURSTENBERG (Photo: Essie): To offset the colourful DVF pieces, manis were toned down with Essie's Au Natural.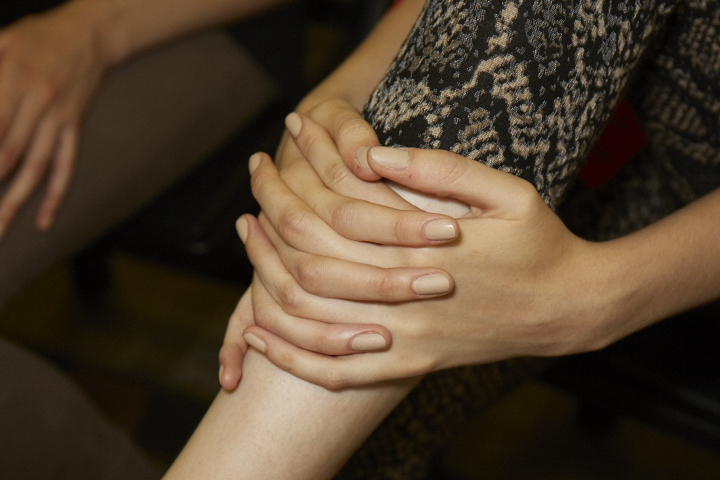 ALEXANDER WANG (Photo: Essie): Over Essie's Cocktails & Coconuts, Matte About You gave a shine-free finish.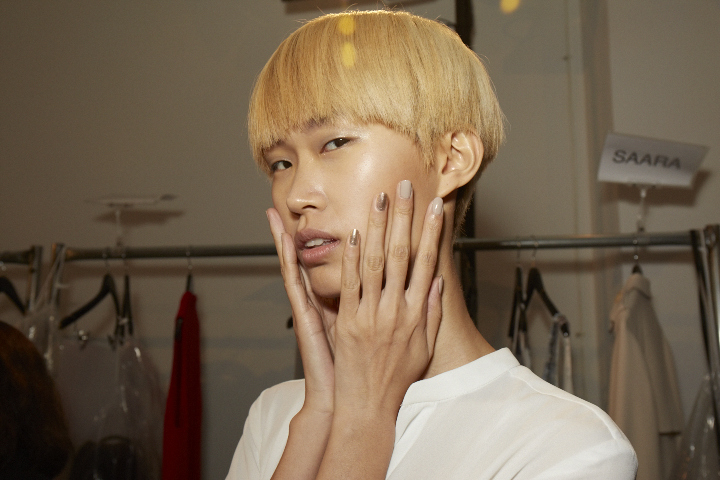 SALLY LAPOINTE (Photo: Essie): A beige and gold manicure matched the subtle fashion palette.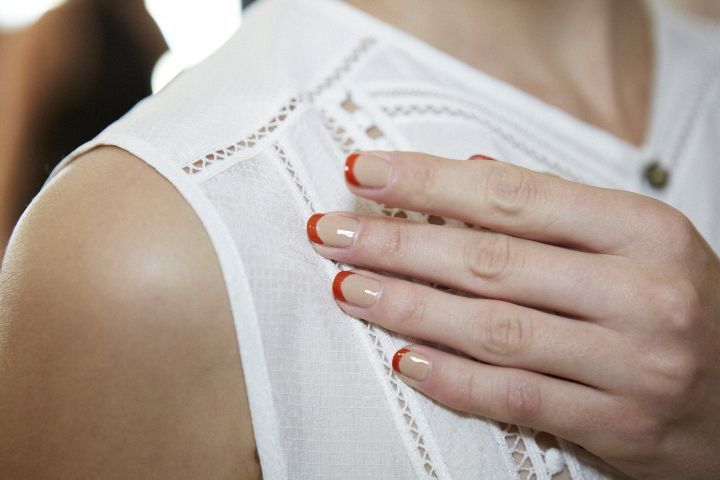 VERONICA BEARD (Photo: Essie): For this red-orange half-moon, Essie's Clambake was painted at the tips, layered over All Eyes on Nude.
KAREN WALKER (Photo: Jin Soon): Jin Soon's muted metallic Cachet brought out the clothing's gold accents.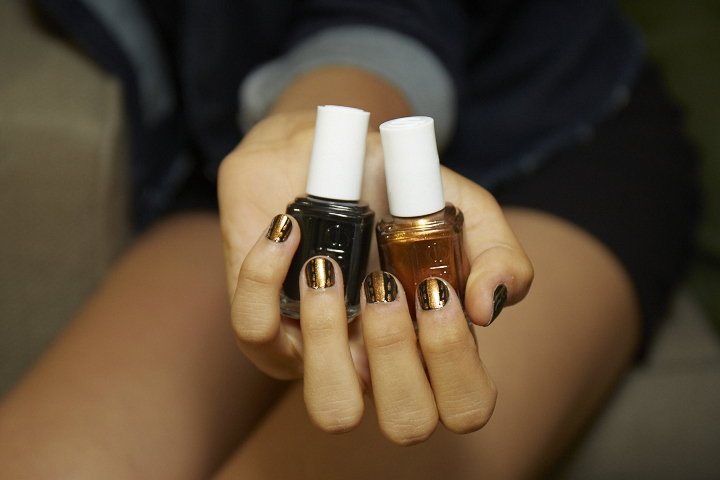 SOPHIE THEALLET (Photo: Essie): Manicurists applied Essie's Licorice, then added Leggy Legend with a striping brush, to create a modern crocodile design.
LIBERTINE (Photo: CND): Four different designs—Blinky Blocks, Checkmate, Bad Penny and Veronica—were randomly placed on models' fingers.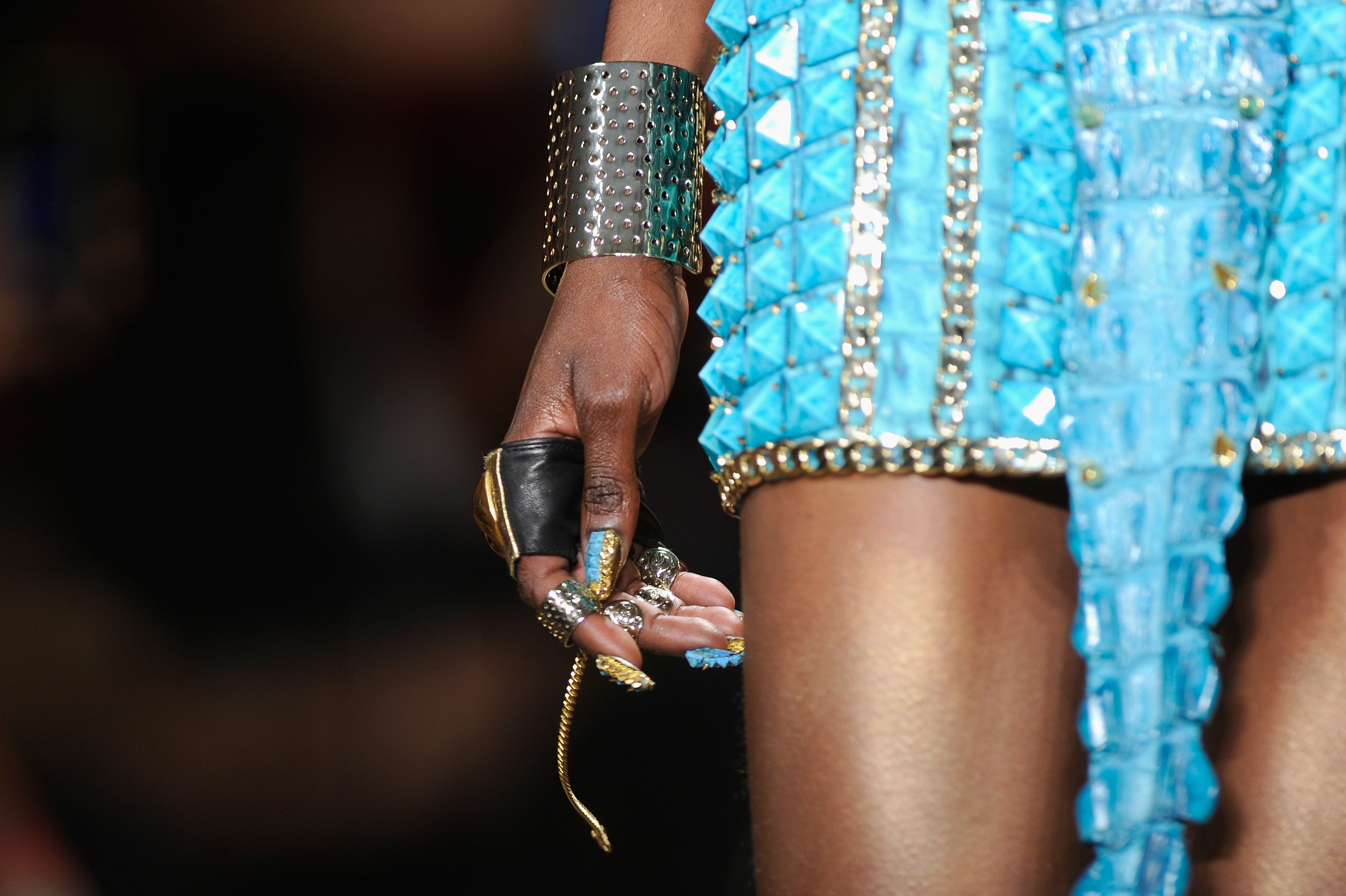 THE BLONDS (Photo: CND): Nails with hieroglyphics, snake and croc texture, gold-plated wings and scarab beetles reflected the collection's Egyptian theme.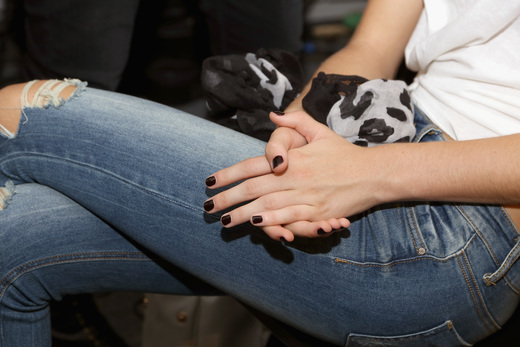 DEREK LAM (Photo: Jin Soon): Nails were slicked deep oxblood using Jin Soon's Risqué.
PROENZA SCHOULER (Photo: Essie): Fingers were painted with Essie's Au Natural or Licorice, then mattified with a topcoat.